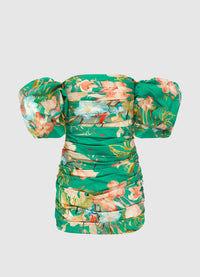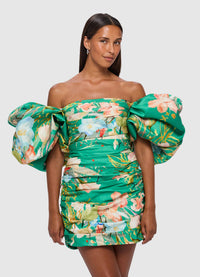 Free express shipping worldwide on all orders over $750.
PRINT DESCRIPTION
Heaven on earth. The visually arresting Opulent print in Verdant transports us to the heart of the natural world, an aesthetic paradise evoking romance and wonder. The stunning green is the ultimate hue for the season, and plays artfully off the reaching blooms.
PRODUCT DESCRIPTION
Premium silk cotton mini dress
Exclusive LEO LIN Opulent Print in Verdant
Strapless neckline
Short puffed sleeves
Hand draped bodice
Invisible back zip closure
Full lining
NEWSLETTER
Sign up for LEO LIN updates to recieve information about new arrivals, future events and special projects.