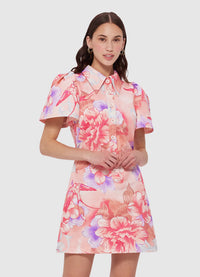 Free express shipping worldwide on all orders over $750.
PRINT DESCRIPTION
The interplay of pink and violet hues results in an amorous rendering of the season's iconic Swallow print. The duality of the birds epitomises the beauty of love, whilst the Lush colour palette – subtly offset with accents of blue – reinforces Leo Lin's unceasing pursuit of romance and affection.
PRODUCT DESCRIPTION
Premium cotton shirt mini dress
Exclusive LEO LIN Swallow Print in Lush
Collared neckline
Front button opening
Short flared sleeves
A-line mini skirt

NEWSLETTER
Sign up for LEO LIN updates to recieve information about new arrivals, future events and special projects.