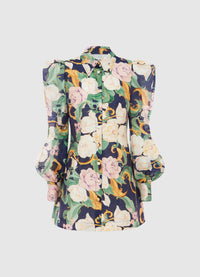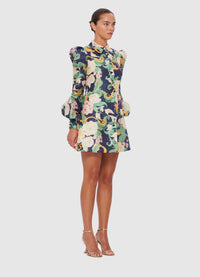 Free express shipping worldwide on all orders over $750.
PRINT DESCRIPTION
An alchemy of vivid colour and gold accents shapes this season's in-house Adorn Virtue print. Heroing the white camelia motif, an Autumn-Winter-blooming floral, the print is aesthetically elegant, refined and lively. Both a source of sartorial inspiration and a call to embrace life within the cooler seasons, its detail and dynamism makes this a wearable design this season and beyond.
PRODUCT DESCRIPTION
Premium linen blend mini dress
Exclusive LEO LIN Adorn Print in Virtue
Collared neckline
Front button opening
Bishop sleeve with button cuff
Fitted waist
Side pockets
A-line mini skirt
Bodice & skirt lining
NEWSLETTER
Sign up for LEO LIN updates to recieve information about new arrivals, future events and special projects.